Do you love sunny weather and clear skies? It's the perfect opportunity to spend time outside with your family and friends, or even just by yourself. Having a beautiful outside area to relax in provides a space where you are able to take a deep breath and let go of the stresses of the day. You can have a garden, terrace, or balcony and with the right setting, you can turn it into something special. One of the most important parts of setting up your outdoor area is the flooring. Artificial grass tiles, wood deck tiles, and rubber playground tiles are excellent flooring options because they are maintenance free, comfortable to sit on, and long-lasting.
What are artificial grass tiles?
They are synthetic grass tiles that click together and provide a realistic looking grass area without the hassle of maintaining real grass. Artificial grass tiles are practical, simple to set up, and maintenance free. The grass blades have four different shades of green which gives these tiles a natural "lawn" finish. They are also water porous which means they are suitable for outdoor use, as well as indoor.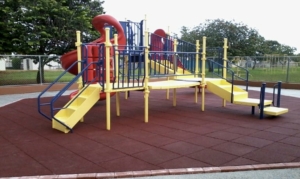 What are rubber playground tiles?
Rubber playground tiles are made of recycled rubber and are designed to provide an impact absorbing surface. Hence the name, these tiles provide a safe flooring option for playgrounds as kids are better protected as opposed to a harder surface such as tar. These tiles are easy to set up and can be installed on concrete, asphalt, or a compacted base. They are also well suited for outdoor use as they have a design that allows water to flow through and around the tiles. There are a variety of different ways in where these tiles can be used, including floors, balconies, and roof terraces. Their appeal is further enhanced by the fact that they can be used as a sound and/or vibration dampener.
What are wood deck tiles?
Our wooden terrace tiles are made of 100% real, high quality acacia wood. These tiles are another excellent flooring option for your outside area as they are quite stylish and present an attractive, natural looking wooden finish. They are suitable for both indoor and outdoor use, as the design includes a drainage system which allows water to flow through the tiles. These tiles are also easy to install with a click connection. These wood deck tiles are weather and wind resistant, and the surface is anti-slip. It is recommended to use wood floor oil to extend the life of the wood tile. These tiles are also an excellent flooring option for your balcony, terrace, or garden.
What is the difference between these three tiles?
Artificial grass tiles & Wooden Deck Tiles: These tiles are great to use for an area that will not get heavy traffic. They are ideal for smaller, cozier spaces that are meant to look good and provide some form of relaxation. Since these tiles are light and are connected by clicking them together, they are better used for lighter activities and equipment. They are ideal for garden, balcony, and terrace spaces. They provide a fantastic, natural grass look or a stunning wooden floor design to private areas.
Rubber playground tiles: These tiles are ideal for any type of traffic but are especially durable when undergoing constant, heavy traffic. Since these tiles are solid, large, and weighty, they do not move around easily and can be used to cover large areas. These tiles come in different colours, so it is easy to create a customized and fun design specific for your needs. These tiles are ideal for large areas and are heavy duty so they can be used for any activity requiring a firm, smooth, and resilient surface/floor. These tiles can easily be set up for events, playgrounds, sports areas, and can be utilised both in and outdoors.
Which tiles are best for you?
If you would like to brighten up a smaller area that will be used for light, relaxed activities, then the artificial grass tiles or wood deck tiles are for you. They will provide a stunning, natural grass or wooden look to your space while remaining maintenance and hassle free. If you are looking for a flooring type suitable for heavy foot traffic and constant activity, then the rubber playground tiles are what you need. They are a solid, yet comfortable flooring option that presents an attractive finish.
Where can you get these tiles?
Rubber Online has excellent quality artificial grass, wood deck, and rubber playground tiles that are suitable for both indoor and outdoor use. They are all easy to maintain which means you can create a stress-free outdoor area for everyone to enjoy.
Artificial Grass Tiles:
Rubber Playground Tiles:
Wood Deck Tiles:
https://rubberonline.co.za/wp-content/uploads/2021/12/LETS-STEP-OUTSIDE-THIS-SUMMER-1.jpg
605
605
RubberUniAdmin
https://rubberonline.co.za/wp-content/uploads/2019/11/Logo.png
RubberUniAdmin
2021-12-17 13:09:55
2022-03-30 12:29:07
Let's Step Outside This Summer