Is exercise a part of your daily routine? Are you interested in incorporating physical movements into your life? Even though it is not necessary, having a well setup and appealing exercise area can help to motivate you to work up that sweat and challenge your body. If you are interested in setting up a gym area, whether it is for private or commercial use, you will need the proper flooring to make sure that your space is safe and able to withstand the activities that will be done in it. Rubber Online has various flooring options for you to choose from in order to create your perfect gym.
What are the benefits of exercise?
Exercising has many, varied benefits that have a long-lasting positive impact on your life. There is no required amount or time that you need to exercise, it is completely up to you on how you incorporate physical activity into your life. For example, choosing to take the stairs instead of the elevator is a good step in the right direction. Physically, exercising helps you to control your weight by burning calories and it boosts your energy. It improves your mood by stimulating various brain chemicals that leave you feeling happier and more confident. Exercising can help to raise your self-esteem which has a long-lasting impact on your relationship with yourself and others. The benefits of regular exercise cannot be overstated. There is also an endless variety of ways to get active, such as running, biking, swimming, lifting weights, playing sports, and the list goes on. Choose a way of exercising that is enjoyable and fits your lifestyle so that you have fun when doing it because this will increase your chances of creating a regular routine.
Why is flooring important in any gym?
When creating a gym, whether it is a small home space or a big commercial area, flooring is extremely important. The right flooring needs the right properties in order to make sure that it can handle all the activities that take place on it, as well as maintain its form for a long period of time. If you are going to have heavy weights or equipment, your flooring needs to be durable, strong, and firm yet not too hard. Choosing the right flooring will save you lots of time in the long run and it will make sure that you are supported properly during the activity.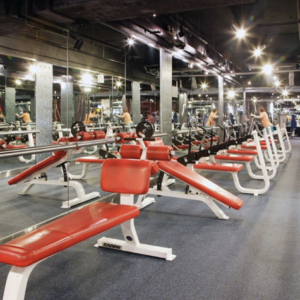 What is Ultra-Floor Sports Flooring?
Ultra-Floor Sports Flooring is a fantastic flooring option, especially for spaces that will get high levels of traffic. One of the main attractions of this product is the presentation, it has an incredible, attractive finished look. The material used falls into a 60 to 85% recycled content range, making it widely regarded as the premiere "green" flooring choice for fitness centres. This resilient product has anti-slip, anti-fatigue, and shock absorbent properties. These properties are an essential requirement for gym flooring as they reduce the risk of injuries and protect both the equipment and space. Since this flooring option comes in a roll, it is easy to cover large spaces and present a seamless finished floor. Once installed, these mats are low maintenance and long-lasting. Our Ultra-Floor Sports Flooring on Rubber Online comes in different thicknesses, and pattern/colour options.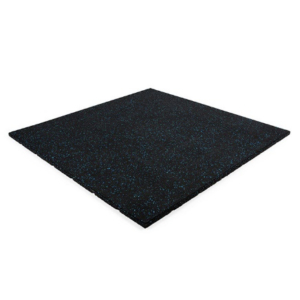 What are Rubber Gym Tiles?
Rubber Gym Tiles are another excellent flooring option for gyms. These tiles are extremely convenient because they can be placed over any surface and are weighty enough to stay in place without any installation necessary. They have anti-slip properties and can therefore be used in wet or dry areas. The design of the tiles ensure that water can drain away. They have shock-absorbent properties which aids in preventing injury, as well as providing a protective surface for any equipment. The material of the tiles is firm and solid, yet it has a bouncy give to it which makes more comfortable to exercise on. These tiles also absorb sound, as well as vibration, which are useful properties to have especially when heavy weights are being used in the space. Our Rubber Gym Tiles are available in a 20mm thickness and there are also various colour options to choose from.
Which option is the right one for you?
Ultra-Floor Sports Flooring: If you are looking to cover a larger area, then our rolls of Ultra-Floor Sports Flooring is a great option.
Rubber Gym Tiles: If you are looking to cover a smaller space, and you would like a product with a water drainage design, then our gym tiles are a fantastic option.
Where can you find good quality gym flooring options?
Rubber Online has excellent quality Ultra-Floor Sports Flooring and Rubber Gym Tiles, in different thicknesses and colours, for those who are looking for a practical yet presentable gym flooring option that will withstand the activities practiced on it. You deserve an Ultra-Floor for your Ultra-Gym.
https://rubberonline.co.za/wp-content/uploads/2019/11/Logo.png
0
0
RubberUniAdmin
https://rubberonline.co.za/wp-content/uploads/2019/11/Logo.png
RubberUniAdmin
2022-02-14 08:07:35
2022-03-30 12:06:16
The Ultra-Floor for the Ultra-Gym